33rd International Congress on Occupational Health (ICOH)
21-26 March 2021, Melbourne, Australia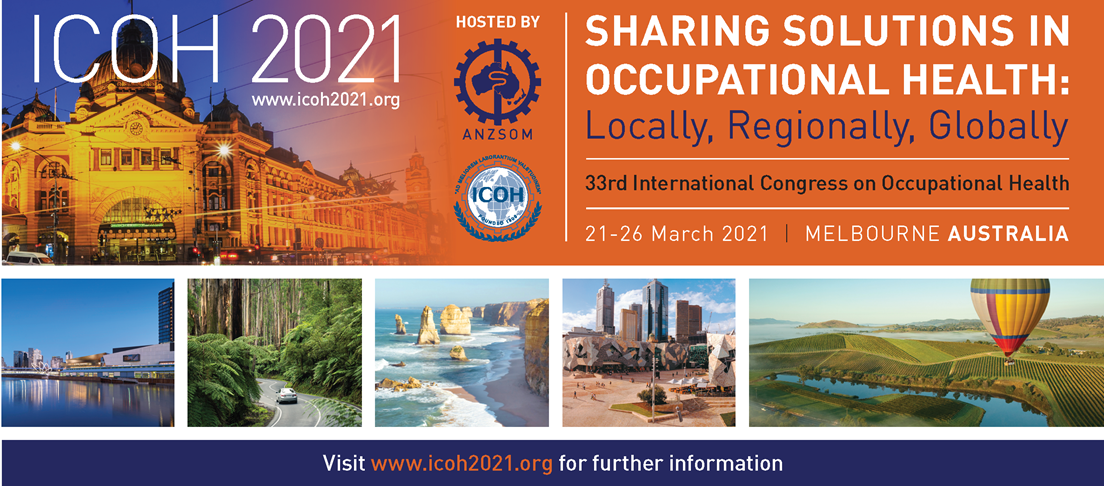 Theme: Sharing Solutions in Occupational Health: locally, regionally, globally
ANZSOM is honoured to be the host body of the 33rd International Congress on Occupational Health – ICOH 2021, to be held in Melbourne.
With the theme 'Sharing Solutions in Occupational Health: locally, regionally, globally', the 2021 ICOH Congress will bring together occupational health researchers, practitioners and policy makers from around the world to share their collective knowledge about improving worker health and safety.
The ICOH 2021 National Organising Committee includes:
Malcolm Sim
ICOH 2021 Organising Committee Chair

Peter Connaughton
AFOEM President

Maureen Dollard

Tim Driscoll

Deborah Glass

Miguel Kabilio
ANZSOM WA Branch Chairperson

Fiona Landgren
ANZSOM Secretariat

Melinda Miller
ANZSOM President

Dino Pisaniello

Desmond Gul
ICOH 2021 Secretariat

Roger Lai
ANZSOM Treasurer General
---
ICOH2021 First announcement
September 2019
---
ANZSOM to host ICOH2021!
March 2017
ANZSOM is pleased to announce that the society will host the International Commission on Occupational Health (ICOH) 2021 congress in Melbourne. This is a great privilege for our organisation and an enormous opportunity for occupational health professionals throughout Australia; this being the largest occupational health congress in the world. Planning is now underway and ANZSOM will be looking to collaborate with other occupational health organisations and experts to ensure this event showcases the great work being undertaken in occupational health nationally and internationally.
Updates will feature regularly on this page. For information, contact the secretariat (secretariat@anzsom.org.au)
Visit ICOH website: https://www.icoh2021.org