10 reasons why nurses should attend ASM2018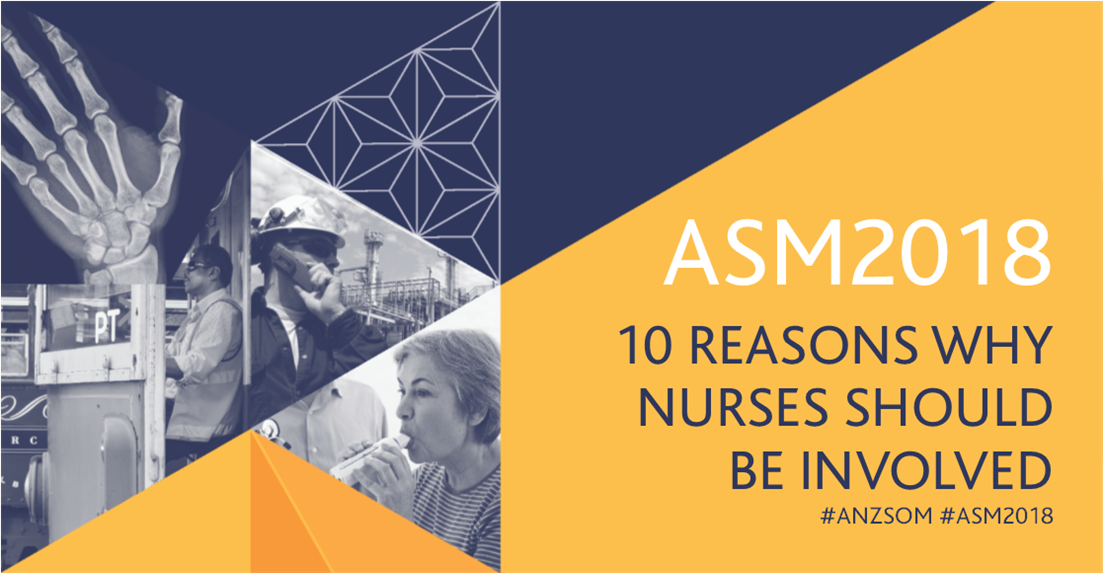 The ASM 2018 is fast approaching and offers a great hands-on educational experience for occupational health nurses. Here are 10 great reasons why nurses should be involved!
1. Explore 'Perspectives in Occupational Health'
The conference theme "Perspectives in Occupational Health" highlights the broad scope of occupational health practice, and nurses will benefit from a diverse program including clinical updates and setting-specific issues. A wide range of high calibre speakers will share their expertise and experience, bringing learning to life across a number of fascinating areas. Click here to find out more about our speakers.
2. Be part of the solution
Building on the the mental health theme, delegates will have a unique opportunity to explore and contribute to solutions for workplace violence, bullying and harassment through an interactive panel session inspired by "Q & A". Also new to this year's program will be a Chill & Recharge space where delegates can access further resources and ideas for promoting mental health in the workplace.
3. Celebrate 10 years of nurses' contribution to ANZSOM
This year we are pleased to offer a very special event for our occupational health nurses as we celebrate 10 years since the Australian College of Occupational Health Nurses merged with ANZSOM. A dinner will be held at Felt Restaurant on the Monday evening of the conference. Attendance is by invitation only, once you have registered for the conference. This dinner is proudly sponsored by Resile - Maximising the health, wellbeing and productivity of your workforce.
4. Updates on audiometry and spirometry
These common areas of practice will feature in Day 2 of the program, with updates to keep you abreast of recent changes, including those flowing from the Queensland Coal Mine Worker's Health Scheme review in 2016.
For those with a particular interest in spirometry, we are pleased to be cooperating with the Alfred Health Promotion Centre to bring to you a post conference course. See details below.
5. See it first hand at unique work site visits
There's nothing like being there, and once again the ASM provides the opportunity to experience a number of unique local workplaces. Visits this year include the Boeing Aerostructures Australia - Boeing's manufacturing facility; Cochlear Care Centre - providing long term support for all recipients of Cochlear Ltd devices; Walter & Eliza Hall Institute of Medical Research - Australia's longest established medical research institution; and WISE Employment - Employment programs for people with mental illness. Click here for more information about site visits.
6. Update your CPR
The CPR Update is a popular feature of the ASM, providing delegates with an opportunity to meet their certification requirements. The course will cover:
Response to an emergency situation
Performance of CPR procedures
Communication of details of the incident
Defibrillation
Places in the course must be booked with registration.
7. Help define and raise the profile of Occupational Health Nursing
The OHN role has changed considerably over the years and ANZSOM is committed to ensuring currency of competencies and appropriate recognition. A workshop will again be held this year to build on the fruitful discussions held in Fremantle. Download the conference program.
8. Help us add value to ANZSOM membership
ANZSOM continues to look for ways to support our nursing members and raise the profile of our shared field of expertise. For those wishing to make a formal contribution, make sure you come to the Annual General Meeting on Wednesday 10th October, 8.15am (light breakfast provided). ANZSOM staff and Committee members are also available throughout the conference to discuss opportunities for involvement or your ideas for improving your member experience. If you would like more information or to be involved, please contact the Secretariat (secretariat@anzsom.org.au)
9. Celebrate ANZSOM's 50th Anniversary with a Gala Dinner at the MCG
The 50th Anniversary Dinner Gala will be the major event at the ASM, and will be held at the Melbourne Cricket Ground. Featuring special guests including Clare Amies, CEO of WorkSafe Victoria, and Bill Glass, one of the early pioneers of occupational medicine in Australia and New Zealand, who will share their reflections and insights in the field of occupational health and medicine. The Gala Dinner is included in the cost of full registration.
10. WIN free registration to ASM2019 in Adelaide
This year you will have a chance to win free registration to next year's conference in Adelaide, simply by visiting each of the exhibitors at the conference! The winner will be drawn at the Awards Lunch on the Wednesday. To be eligible you will need to be at the lunch to receive the prize in person.
---
Post-conference course: Spirometry - Principles and Practice, 11 & 12 October 2018
ANZSOM is pleased to announce a special opportunity for ASM delegates. The Lung Health Promotion Centre @ The Alfred and The Alfred Physiology team will present this extensive 2 day course on the two days immediately following the ASM. The course is based on the new Australia and New Zealand Society of Respiratory Science (ANZSRS) and The Thoracic Society of Australia and New Zealand (TSANZ) standards, and is designed for health professionals who care for people with asthma, COPD and other respiratory conditions.

Location: AMREP Education Centre The Alfred, 89 Commercial Road, Melbourne, Victoria 3004
Cost: $810 (Includes morning tea, lunch and course material)
Password code: ANZSOM2018

Click here to register